Maïa Barouh
Maïa is a unique singer and flautist.
From a French-Japanese background, she has clearly found her way towards a boundless musical self-expression, rooted in solid classical training and a unique rendition of her heritage.
The audience can expect to be transported along the Paris-Tokyo axis to space and beyond. She describes her style as ELECTRO-ROOTS-POP-PUNK .
Maïa sings using an unknown special throat technique from a small island in the South of Japan, mixing it with modern and electric sounds, but the flute is her first instrument. After studying classical and jazz, she quickly transformed the way she played as she started making her own music, improvising, singing with her flute and using it as percussion.
After much going back and forth between Paris and Tokyo, the teenager began her career in the Tokyo underground playing the saxophone with Japanese street band, accompanying dragqueens, dancers and musicians from all edges. she multiplied the tours and concerts throughout the archipelago, releasing albums produced « Kusamakura » a compilation of the new Japanese scene.
But this latest project, produced by the legendary Martin Meissonnier (who has worked with the likes of Fela Kuti, Robert Plant & Jimmy Page, Khaled and Manu Dibango) is something completely new.
The earthquake and the nuclear accident that hit Japan on March 11, 2011 marked a turning point in Maïa's development as a musician. The man-made catastrophe and the destruction that followed pushed her to re-root herself deeply in the musical traditions of Japan, gathering the songs of fishermen, sailors, party songs from Fukushima which she calls as « Japanese bleus » and take them out to the wider world, in her own interpretation, while integrating also her compositions.
The album « KODAMA » got released in France UK and Japan in 2015.
Backed by powerful musicians and a free-flowing instinct that transcends national borders, Maïa offers an extraordinarily broad melodic landscape where melancholy and madness ride over percussive grooves, trance-like dance tunes and stripped-down a cappella singing.
« Striking stage presence, crazy folk trance, volcanic energy, traditional and pop Japanese singing and occasional touches of flute make up the exciting mix that is Maïa Barouh."
Maïa Barouh
Maïa est une chanteuse-flûtiste franco-japonaise exceptionnelle. Elle tente de définir son style comme « roots-electro-pop-punk ».
En vérité Maïa sort du cadre grâce à un ADN musical extrêmement riche et varié.
Un timbre reconnaissable entre tous, des chants enracinés qui utilisent une technique vocale inconnue venant d'une île au sud du Japon, aux sons les plus modernes. Maïa transforme, malaxe, tord, et nous offre un son unique, le sien !
Fille de l'auteur-producteur Pierre Barouh et d'une peintre japonaise, elle grandit dans l'art des rencontres et des voyages, bercée par le jazz et la musique brésilienne.
La flûte est son premier instrument.
Après avoir étudié le classique et le jazz, elle trouve son propre style et affirme une personnalité forte et dynamique en utilisant sa voix, le cri et un jeu percussif mêlé à une grande musicalité. Il faut ajouter à cela une présence scénique redoutable.
Son adolescence se déroule entre Paris et Tokyo, et c'est dans l'Underground Tokyoïte qu'elle débute sa carrière en jouant du saxophone dans une fanfare japonaise.
Elle accompagne dragqueens, danseurs et artistes de tous bords avant de multiplier les tournées et concerts dans tout l'archipel.
Viennent les premiers albums et en 2017, elle produit « Kusamakura », compilation musicale de la nouvelle scène japonaise pour qui elle organise des tournées en Europe.
Le séisme et l'accident nucléaire du 11 Mars 2011 marquent un tournant dans sa carrière, et la poussent à se reconstruire en partant à la recherche des chants traditionnels de la région pour les faire revivre à sa façon, comme un témoignage de la force et de la beauté d'une terre qui n'est plus que décombres.
Ce sont des chants de paysans,de pêcheurs,de marins ou des chants des fêtes de Fukushima qu'elle décrit comme « le blues du Japon ».
Son dernier projet mélangeant ces chants traditionnels réarrangés et ses compositions, est réalisé avec le célèbre producteur Martin Meissonnier (Fela Kuti, Robert Plant & Jimmy Page, Khaled, Don cherry, Manu Dibango..) l'album « Kodama » sort en France, en Angleterre et au Japon en 2015.
Entourée de jeunes musiciens de talent basés à Paris, Maïa se produit de plus en plus sur les grandes scènes internationales.
Avec son énergie volcanique et sa musicalité sans frontières, elle nous entraine entre mélancolie et transe, world et musique électronique, au cœur de ses racines avec un chant qui prend aux tripes.

マイア・バルー
東京生まれ、パリ育ちのシンガー&マルチミュージシャン。
仏人の歌手の父と江戸っ子の母の下、小さい頃から世界中を巡り様々な音楽を吸収。ブラジル漫遊中に聴いた音色に感銘を受けたのをきっかけにフルートを始め、独自のスタイル獲得する。
音楽活動は東京で始まり、ロック、アフリカ、ブラジル系、DJやダンサーやシャンソン歌手の伴奏などジャンル問わずにセッションを重ねる。 18歳の頃、ネオちんどんバンド、「かぼちゃ商会」と運命的な出会いをし急遽サックスを独習、担当した。 その後「ちんどんブラス金魚」のメンバーとしてサックスとフルートを演奏、かつ作曲と編曲を手がける。 2005年より『CABARET SHINJUKU』(日本の個性派ミュージシャンをフランスに 紹介し日仏音楽の橋渡しをするイベント)のプロデューサーを務め、 参加アーティスト大集合の初プロデュースオムニバスアルバム、"KUSAMAKURA"がフランス、カナダ、日本で発売。 坂本龍一のレーベル、『コモンズ』からオムニバスアルバム"にほんのうた"に参加。
2007年春からAbu(e.bass)と駒澤れお(African percussion)と共に主に歌手としてソロ活動を開始し。 2009年にはJ-WAVE/TOKIO HOT 100 awards,EARTH DAY TOKYO、FUJI ROCK などに出演。 2010年、佐藤タイジ[THEATRE BROOK]をプロデューサーに迎えたアルバム「地球をとってよ!」が全国発売&配信開始。また、イベント「地球をとってよ!」はOKI、ダブルフェイマス、Shing02、Buffalo Daughterらを迎えて続けられた。パルコのコーポレートキャンペーン「Love human」に出演し、パルコ劇場での初のホールコンサートはSOLD OUT。清水靖晃、 Arto Lindsay、Cyro Baptista, Kip Hanrahanなど世界の巨匠とライブやコラボレートをする。 2011年よりフランスに拠点を移しMartin Meissonnier氏をプロデューサーに迎え日本の民謡と電子音をミックスした新しいプロジェクトを開始。新譜 »KODAMA »はイギリス、フランス、日本でリリースしアコースティック/エレクトロバンドと共にヨーロッパ中心に活躍中。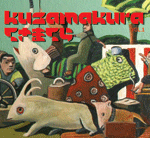 EN
CABARET SHINJUKU
Founded by Maïa in 2007 after the release of Kusamakura (a compilation of 17 tracks offering a wide panorama from the current Japanese music scene, ranging from the traditional to the Tokyo Underground), the aim of the Cabaret Shinjuku nights was to showcase those mad overflowing talents as featured on the record. Maïa has already completed two tours in France, Belgium and Japan in 2007 and 2008 with Momonashi (a progressive folk duo), Katan Hiviya (a hardcore jazz-manouche singer-guitarist) and Les Romanesques, an off-the-wall pop duo. She longs to take to the stage again and even turn the show into a real festival!
FR
CABARET SHINJUKU
Initiées depuis 2005 par Maïa, les soirées Cabaret Shinjuku ont pour ambition de présenter la scène actuelle Japonaise en France et à l'occident. Après la sortie de la compilation KUSAMAKURA où elle présente sur 17 morceaux un panoramique de la scène musical Japonaise autre que celui véhiculé par les mangas,les samuraïs et geishas..Un Japon fou,anachronique et généreux. En 2007 et 2008 Maïa boucle 2 tournées avec Momonashi (duo folk progressif),Katan Hiviya (guitarist-chanteur jazz manouche hard-core) et les Romanesques (duo pop décalé).
JA
CABARET SHINJUKU
2007年10月に日本の個性派ミュージシャン大集結のオムニバスアルバム "くさまくら"がマイア・バルーのプロデュ―スによりフランスサラヴァにてリリースされた。 KUSAMAKURAは自分たちのルーツをリスペクトしながら今の空気を吸って吹き出す個性溢れるアーティスト達を集めたコンピレーションでありCABARET SHINJUKU はそのCDの発売後作ったイベントである。 2007、2008年に日比谷カタン、桃梨、レ・ロマネスクを引き連れてフランスツアーを敢行した。 世界で日本の音楽というとアニメソングか和太鼓くらいしか知られていない事に気付き,私が東京や奄美大島で出会った素晴らしく豊かでパワフルな音楽を聴いてほしい、観てほしいという気持ちからうまれたマイアの企画。 今後もまた復活するかもしれない!